Introdution:
Arduino Raspberry Pi Holder Breadboard
TAGLINE
Well-crafted and sleek companion to Raspberry Pi and Arduino device.
The RAB Holder is a superior holder for Arduino and Raspberry Pi hobbyists to make experiments and save the results conveniently.
For kids and adults who are interested in building and learning Raspberry Pi devices – the SunFounder RAB Holder is the best holder to fix Arduino and Raspberry Pi boards on one surface – simplifying the circuit building process and creating a fun memorable experience.
Feature:
Use With All Device
The RAB holder can hold the Arduino uno,mega 2560 as well as the raspberry pi 3/2/B+
Contrasting Color
The holder is a bright blue color that perfectly contrasts the raspberry pi/Arduino uno motherboards That are placed on it.
Convient Slots
The holder's slot locations allow TF/Mini SD/HDMI/USB to be easily inserted without any hindrances
Long-Lasting Polyethylene Material
It is made from a strong polyethylene plastic that withstands all conditions
Easy To Pack
Easily fits in a backpack or folder,and you can take it with you whereever you go
Specification:
Item Dimensions: 20*13.5*0.5 cm
Package Dimensions: 22*16*1cm
Item Weight: 95g
Package Weight: 103g
Package included:
-2x M3*10 Screw
-4x M2.5*6 Screw
-6x M3*6 Screw
-1x RAB Holder
-1x Screwdriver
-6x Rubber Feets
WIDE-RANGE COMPATIBLITY – This breadboard holder is compatible with the Arduino Uno, Mega2560 and Raspberry Pi 3/2/B+ as well as working with both 400- and 830-hole breadboards
SUPERIORLY DESIGNED SLOTS – The slots are specially designed for TF cards, HDMI and USB cords to be inserted without hindering the power connection
WELL-CRAFTED DESIGN – The RAB Holder has a customized, sleek design that is attractive and is more comfortable to touch while working with it
DYNAMIC PORTABILITY – Able to be easily moved, carried, and fixed on a flat table for working and creating experiments
AFFORDABLE PRICE – As one of the best products in the industry for the best quality, the holder is available for a cost-efficient price, coming with 6 Rubber Feets which can prevent the Rab Holder from slipping

Offerte Miglior Prezzo su Amazon
Ultimo aggiornamento il 28 Gennaio, 2020 12:27
Confronta su AliExpress
Offerte Miglior Prezzo su Ebay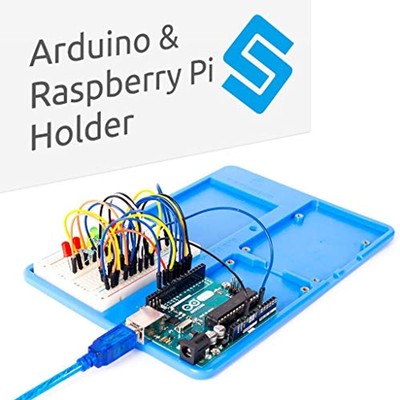 Ebay.it
Ebay.it
Video su YouTube
B193 -SunFounder RAB 5 in 1 Breadboard
Demo Information: http://rdiot.tistory.com/334.
RAB HOLDER - WORK ON YOUR CIRCUITS IN A EASIER WAY *SUNFOUNDER*
What's up guys! Sorry for being late, but here is the RAB Holder from the SunFounder. With this nice board you can stick a breadboard and also your ...
SunFounder 5 in 1 RAB Breadboard Holder for Arduino UNO MEGA2560 Raspberry
Check here : http://s.click.aliexpress.com/e/bSnm7m92 SunFounder 5 in 1 RAB Breadboard Holder for Arduino UNO MEGA2560 Raspberry Pi 3 2 Model B B+ ...
SunFounder Human-Computer Interaction STT PiSmart Car Assembly Tutorial - Part 1
The PiSmart Car is an intelligent car created based on the PiSmart platform. This video shows you how to assemble this smart car step by step, especially battery ...